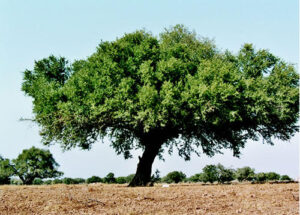 Cold pressed organic Argan oil takes a great deal of time and effort to produce; however, the end result is worth it. The best cold pressed oil is pressed by hand to get the richest and most nourishing and purest oil.
Heat extracted oil is adulterated by the process and loses some of its potency. In this article we will describe the attributes of the very best, pure, organic Argan oil. Read on to learn how you can tell if the Argan oil you are buying is top quality, cold-pressed.
OUR SELECTION FOR No 1 CERTIFIED ORGANIC ARGAN OIL
HOW TO FIND ORGANIC ARGAN OIL
READ THE INGREDIENTS LABEL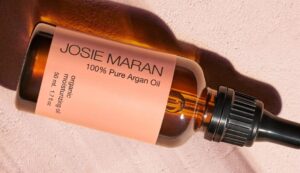 There should be nothing in 100% cold pressed Argan oil except Argan oil. The label should say "cold pressed". You may find that the label refers to Argan oil as "Argania Spinosa". It is also alright if it is called "kernel oil". This just means that the oil was extracted from the kernels of the Argan fruit. If there are other ingredients, it is obviously not pure Argan oil.
LOOK FOR A DARK COLORED CONTAINER OF GLASS OR STAINLESS STEEL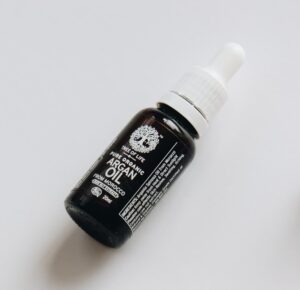 Cold pressed Argan oil should not be sold in plastic or in clear containers of any kind. The oil should be protected from light, and plastic can degrade into the oil and damage it. The same is true of aluminum. Only buy Argan oil in dark glass or stainless steel bottles.
LOOK FOR A HIGH PRICED OIL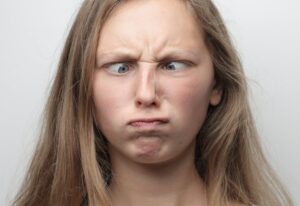 Yes, sorry but pure argan oil isn't cheap. If you find cheap Argan oil, you have not found Argan oil at all. You get what you pay for, and cold pressing Argan oil by hand takes a lot of back-breaking labor.
You should expect to pay at least $5 an ounce for genuine, cold pressed Argan oil. Of course, it the price is outrageously more than that, you should exercise caution. You can still be cheated with overpricing, even on a naturally costly product.
BE SURE THE ARGAN OIL YOU ARE PURCHASING IS FOR COSMETIC PURPOSES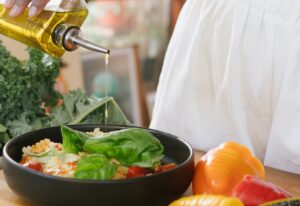 Culinary Argan oil is less expensive and packaged in larger containers. This is great oil for eating, but it will not work as well as a beauty product. Culinary Argan oil comes from roasted Argan kernels. The heat in the roasting damages the oil for cosmetic purposes. Cosmetic Argan oil comes from raw kernels.
BE SURE TO SMELL THE OIL BEFORE YOU BUY IT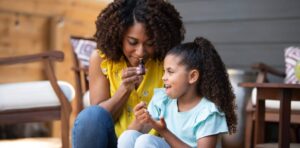 Argan oil that smells very tasty and aromatic should be avoided because it is probably culinary oil. If it has no smell, it isn't Argan oil. It is probably an impostor or diluted with some other type of oil.
It may also have been machine processed and deodorized. Remember that heat extracted, deodorized Argan oil loses a great deal of its beneficial properties. Additionally, if Argan oil smells strong and bad, you should not buy it.
A bad smell means that the oil has become rancid. This happens when it is exposed to light or air for long periods. When you do purchase organic Argan oil, be sure you store it out of bright light and keep the top screwed onto the bottle tightly. You might even want to refrigerate it between uses.
WHAT DOES ORGANIC ARGAN OIL SMELL LIKE?
Good Argan oil has a nutty/popcorny scent. It is usually quite distinctive but not strong. Nuts harvested at certain types of year will produce a lighter scent, but it will not be scentless like an impostor or a machine processed oil. A high quality, all natural brand of Argan oil may vary in scent from one batch to the next. When you smell pure, 100% cold pressed Argan oil, it should smell good, fresh and perhaps a bit inviting.
The aroma is sort of green and raw and very reminiscent of nuts. Once applied, the scent will dissipate within a few minutes as the oil soaks into your skin. Most people become very fond of the scent, especially as they see all the wonderful things this fabulous oil can do for their skin.
CHECK THE TEXTURE OF THE OIL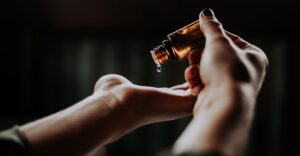 When you rub 100% pure cold pressed organic Argan oil between your fingers, it should feel silky and smooth. When you rub it onto your skin, it should sink right in. It should not leave a residue or have a watery, slick or sticky feel.
Genuine Argan oil brings instant soothing. If you apply it over injured or inflamed skin, it shouldn't produce a stinging sensation.
LOOK FOR A BIT OF SEDIMENT IN THE OIL
This may be difficult to check in a dark or opaque container, but you should be able to see a little sediment in genuine Argan oil. You might try shaking the bottle and then pouring a bit into a clear glass bottle as a test. You will also notice that pure, cold pressed oil is a little bit cloudy. It should be a yellow/gold color – hence the name "liquid gold". An oil that is excessively refined or simply a different kind of oil altogether will be completely clear.
CHECK THE RESULTS YOU ATTAIN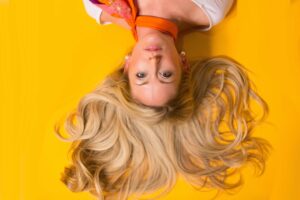 Pure, 100% cold pressed Argan oil should begin improving your skin, healing your scars, soothing your rash and so on within five to seven days. Quick, dramatic results are to be expected. If the product you have purchased is not working, it is not likely to be genuine.
All in all, the thing to remember is that the best Argan oil is handled gently throughout production without heat or machinery used in extraction. It is a raw product that may vary from one purchase to the next, but it should always look, smell and feel clean and wholesome. Follow the tips presented here to select the best cold pressed Argan oil for your health and beauty needs.
Please follow and like us:
Being yourself in this world means getting up each morning and confidently being the best person you can be today. Instead of trying to fit in with the world, fit in with yourself, look into the mirror of your soul and know that you are the best person you can be today, feel grateful for the blessings in your life, let love guide you, then do that today, tomorrow and everyday thereafter.
​We all have a mission in life that gives us passion to help, guide and enjoy things in life that bring us and others great joy. My passions include nature and animals and helping spread the word so others can enjoy them too.
I love to empower people physically, emotionally, spiritually and financially to find the light and love within themselves to appreciate their own true value so they can spread that love and hope to others who can find their own freedom, abundance and joy in their lives.