FROM MOROCCO TO UNITED STATES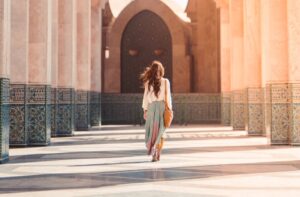 Argan oil is an amazing oil. It has so many uses, from cosmetic to culinary. In Morocco, argan oil is used for just about everything. You can find it in restaurants, health spas, bathroom counters and beauty stores.
Here in the US argan oil is not quite so ubiquitous, but its popularity is growing every day. Mainly, you will find it in cosmetic products, but it is making its way slowly into grocery stores and restaurants. If you have never used argan oil for cooking before, you are in for a real treat.
COSMETIC & CULINARY ARGAN OIL: SAME SOURCE, DIFFERENT PROCESS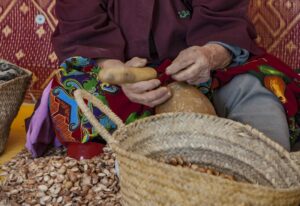 In Morocco, some people drink a small amount of argan oil first thing in the morning. They say it keeps them healthy and youthful. Argan oil is used in the hair, the skin and on the food, similar to olive oil. You can pour some on your fish or even dip your bread in it. It has a mild nutty flavor that is absolutely delicious. Argan oil comes from argan tree nuts. Argan trees are only grown in Morocco and they are rare. This is what makes argan oil relatively expensive compared to olive oil.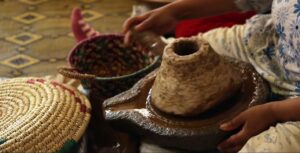 The oil is extracted by hand as well. No machines are used in its production. Argan oil for cosmetic can take 20 hours just to produce a half liter of argan oil, but not the same for culinary argan oil, it takes less time than that, since kernels are roasted first, which make it easier to extract the oil from it. The nuts have to be husked first. They are cracked between rocks to extract the pits which are then ground by hand until they have turned into a paste. This paste is pressed with water until the oil has been extracted. All this is done by hand.
COSMETIC ARGAN OIL IS NOT THE SAME AS ARGAN OIL FOR COOKING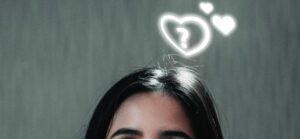 The finished oil is full of nutritious and healthy compounds like vitamin E and fatty acids. It can be used for any type of cooking or cosmetic purpose. Add it to rice, bread, meat, fish, even drizzle it on fruit or cake. and the none roasted argan oil oil can be added to your face and hair. You must understand that there are some differences between cosmetic and culinary argan oil.
COSMETIC ARGAN OIL APPEARANCE & USES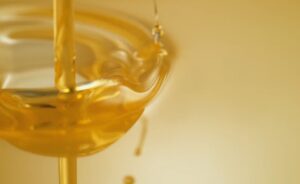 Cosmetic grade argan oil is yellow and very smooth. It makes your hair smooth and removes all the frizz. You can apply it after you shampoo as a conditioner or use it on dry hair as a leave in styling product. It does wonders for your skin and nails as well. Rub it into your nails to prevent breakage and hang nails. You can also use it to reduce the appearance of wrinkles and moisturize your skin.
OUR TEAM'S CHOICE FOR BEST COSMETIC ARGAN OIL
PURA D'OR: Pure & Organic Argan Oil

Check Price on Amazon
ARGAN OIL COOKING APPEARANCE & USES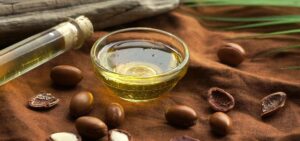 When it comes to cooking, argan oil really shines. Culinary argan oil is toasted first which gives it a nutty flavor. Most culinary argan oil is used to enhance food. It tastes better when you use it to drizzle instead of fry.
Try drizzling it over entrees, salads, and desserts. Culinary argan oil tastes great when you add it eggs or sauteed vegetables after you have cooked them. It is powerful, so you don't need to add much to your food. Just add a few drops. Argan oil for cooking is very popular in France and is used on just about everything.
Some chefs have even created a special argan butter that is used on bread. You dip it into the bread and it tastes heavenly. If you are new to using argan oil in cooking, experiment and discover what tastes best to you.
OUR TEAM'S CHOICE FOR BEST CULINARY ARGAN OIL
You can find culinary argan oil online like Amazon (check the link above), or maybe also found in gourmet food shops in the US. Take your cooking to new heights with culinary argan oil. It will make your dishes taste amazing and enhance your health. Use it with your existing favorites or make new ones with argan oil.
Please follow and like us:
Being yourself in this world means getting up each morning and confidently being the best person you can be today. Instead of trying to fit in with the world, fit in with yourself, look into the mirror of your soul and know that you are the best person you can be today, feel grateful for the blessings in your life, let love guide you, then do that today, tomorrow and everyday thereafter.
​We all have a mission in life that gives us passion to help, guide and enjoy things in life that bring us and others great joy. My passions include nature and animals and helping spread the word so others can enjoy them too.
I love to empower people physically, emotionally, spiritually and financially to find the light and love within themselves to appreciate their own true value so they can spread that love and hope to others who can find their own freedom, abundance and joy in their lives.